Sunglass Hut
Samuel Ziff
was a practicing optometrist in 1971. He felt that the sunglass product category, which was very strong in his South Florida based practice, was not sufficiently well merchandised in the available retailers at that time. Dr. Ziff decided to highlight the category, add a wider selection, styling and services and specialize in sunglass sales only. He chose a Miami mall and rented one of the first mall kiosks to offer his wares. The kiosk was branded
"the Sunglass Hut".
Today the retail colossus that includes
Sunglass Hut sells frames from Chanel, Ralph Lauren, Burberry, Oakley, Ray Ban, Gucci, Bulgari
and many other haute couture houses. Sunglass Hut is one of the most recognizable brands in the retail universe. This classic American success story emanated from a single mall shopping cart. Samuel Ziff started small, proved his sales model, reinvested in expansion and built the first fashion retailer devoted solely to the sale of sunglasses. This is a very viable marketing strategy that many other entrepreneurs should consider.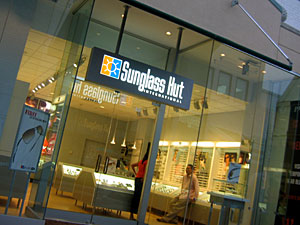 Sunglass Hut